International Cooperation

It is estimated that currently more than 10 million hectares of tropical forest are deforested every year. This not only negatively affects the lives of residents who are living in tropical zones but also affects the global environment. Under these circumstances, Japan is making even greater efforts through "Green International Cooperation" of JICA (Japan International Cooperation Agency) to implement projects such as reforestation projects to mitigate the adverse effects of deforestation.

Japan Forest Technology Association (JAFTA) was involved in "Green International Cooperation" from its initiation and has been participating in projects for sustainable forest resources management and reforestation ever since. JAFTA trains specialists to acquire the ability to correctly assess the situation of foreign countries and the condition of forest in those countries. So far, JAFTA has dispatched many experts to developing countries to carry out various surveys and to formulate forest management and watershed management plans. Also JAFTA received trainees from more than 60 developing countries.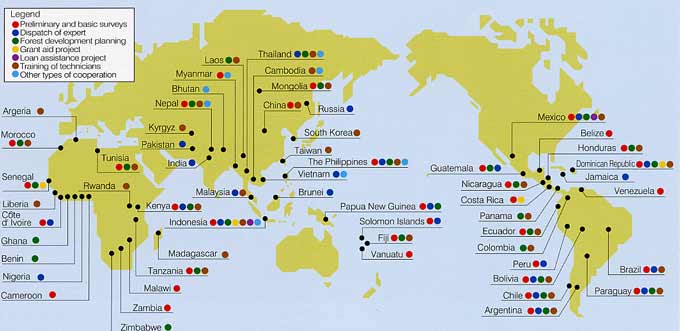 Studies and Surveys Conducted by JAFTA


JAFTA has been conducting many studies funded through Japanese Official Development Assistance (ODA) and international organizations. These are development studies and studies for grant aid funded by JICA, as well as studies for loan assistance funded by JBIC (Japan Bank for International Cooperation). JAFTA has also conducted forest resources management studies which were funded by IDB (Inter-American Development Bank).


Development Studies Commissioned by JICA


Development studies are carried out to provide support in the formulation of development plans for public projects that contribute to the social and economic development of developing countries. At the same time, while the studies are actually being carried out, they serve as mediums for technology transfer to counterparts in the recipient country.

The contents of development studies in forestry sector are mainly resource inventories, social forestry, forest management planning and processing of forest produce.


Grant Aid Related Studies


Grant aid is one of the programs of Japan's ODA extended to developing countries, at their official request, to provide funds for implementing their social and economic development projects without the obligation of repayment.

JICA has initiated grant aid projects for reforestation recently.


JBIC Funded Projects
ODA loans make development funds available to developing countries at low interest rates and with long repayment periods. These loans from JBIC provide funds to develop and improve the economic and social infrastructure necessary to support self-help efforts and sustainable economic development for developing countries and conducted by JBIC.

JAFTA has participated in the implementation of several projects under ODA loans in forestry sector.


Study Sponsored by IDB
JAFTA has also conducted studies in forestry sector which were funded by IDB.


| HOME |
Japan Forest Technology Association (JAFTA)